Southern Lehigh's Six-Minute-Man Nick Colasurdo Leads the Spartans Into Battle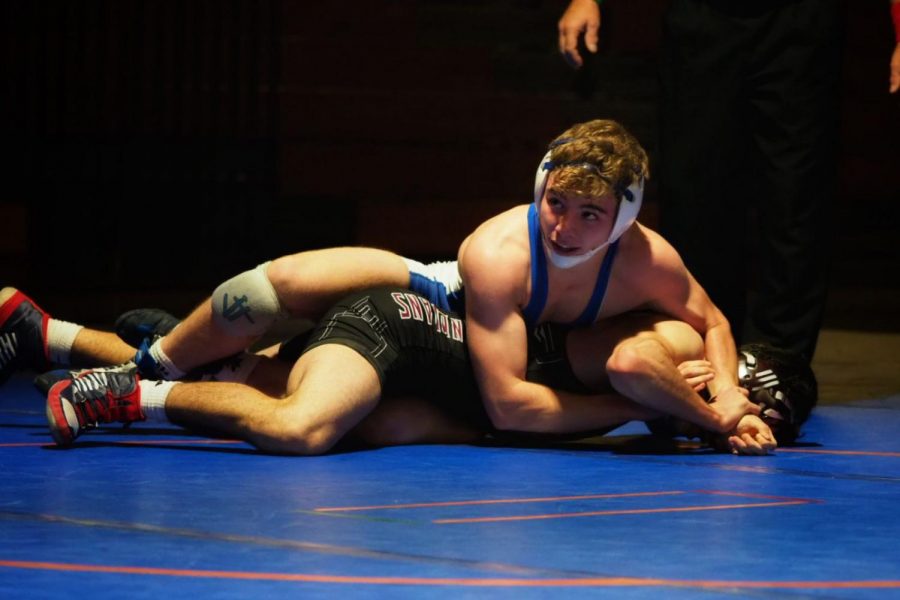 Every high school athlete has their fair share of grit, determination, and sacrifice needed to prosper. Football players practice until their entire body aches, basketball players shoot free throws until their arms feel like jello, and soccer players run sprints until their lungs beg for mercy. As painful as all of these exercises sound, there is one sport that combines all of them into a single athletic endeavor. This sport requires a combination of mental toughness and physical superiority unheard of by any other student athlete.
With an intense dietary regimen and vigorous training, wrestling places stress on the body and mind for months at a time. Take Southern Lehigh wrestling senior captain Nick Colasurdo as an example.
It all begins the day before a match, after a "light" practice consisting of mostly sprints and drills. When he gets home at night, he watches his family eat dinner, while occasionally spoiling himself with a glass of water. The following day is spent in starvation: no breakfast or lunch. His meal times are spent in a more useful way.
"Sometimes if I'm a few pounds over, I'll put some sweats on and run on the treadmill during lunch just to drop some more pounds," Colasurdo said.
Around seven o'clock, Colasurdo steps on the mat with no food in his stomach. Wrestling at 138 pounds, he typically faces one of the opponent's best wrestlers. After exerting all his energy on the mat, he finally sits down at the dinner table 26 hours after his last meal.
As mad as it sounds, Colasurdo's struggles aren't unique to a Division I talent like himself. Although the West Virginia commit pushes his body to the extreme end, many wrestlers partake in starvation tactics. Those wanting to drop a weight class before a match employ some bizarre methods to shed some pounds.
"We put on our sweats and we run for a little bit," junior Richie Gilmore said. "While we're running, we chew gum or something and spit into a trash can to get excess weight off. That normally works."
Needless to say, wrestlers must have plenty of mental willpower to undergo the crushing diet restrictions their sport places on them. The real pain, however, is brought on physically.
Whereas many sporting events take hours to complete, a duel on the mat only lasts six minutes. But six minutes can feel like hours when your body is in the midst of succumbing to exhaustion. In wrestling there's no teammate you can blame for your failure. Once the lights are dimmed, the spotlight shines down on you and your opponent, and the battle begins. There is nothing to rely on but brute strength and instinct.
"You're going out there tired and exhausted and you have to light your own flame; you gotta go," Colasurdo said. "Everyone in our area that you wrestle is trying to hurt you; there's no mercy."
Colasurdo has had quite a remarkable journey from a freshman wrestler with more losses on his record than wins, to a highly prized Division I recruit. Four spinal fractures and a spur in his back debilitated him for the entirety of his sophomore season. A period of agonizing rehab ensued as Colasurdo attempted to build back up all the muscle loss from wearing a brace for five months.  
"It was tough, it took awhile to get my strength back. But even though that injury was bad, that's what helped me become the wrestler I am today," Colasurdo said, " If I can get over that I can do anything that I want."
But his injury refrained from holding him back for too long. He won 25 matches his junior year on his way to a Northeast Regional tournament berth.
For ordinary athletes, all this talk of injuries, starvation, and training begs the answer to one obvious question. Why wreak so much havoc on your body? Why torment yourself with hours on the treadmill, no no food in your stomach, and too many bruises on your body to count? The answer, Colasurdo says, is the isolation.  
"Even though your tired and beat up you just gotta get yourself fired up," he said. "I think that's why I like it. It's just you by yourself out there. You don't have anyone to rely on."
Colasurdo has been a phenomenal asset for the Spartans so far. He's the head of the Southern Lehigh snake hoping to slither it's way into the conversation of best team in the Colonial League behind the powerhouse Saucon Valley.
This year's senior class has built the foundation to a respectable program at Southern Lehigh. Head coach Matt Gorkos has rallied the troops after moving up from the assistant coach position three years ago, when the team finished the year with a meager 11-12 record.
Since then, the Spartans have become a dark horse in the Colonial League. Other than Saucon Valley, many teams lack a solid lineup. Although flawed in some weight classes, the Spartans fill every spot and avoid forfeiting many weight classes, where they dropped most of their points last year.
They look to build on their 15-10 record from last season, but so far they have jumped out to a mediocre start, hovering around 0.500. Other than Colasurdo, few wrestlers have been able to churn out consistent wins.
So even though wrestling isn't the sport for everyone, it deserves a high level of respect in the athletic realm. The wrestlers don't draw the crowd the football team does, but they sure do deserve it. Countless hours of training and fasting pours into only six minutes on the mat. The least we could do as a student body is show up to witness their incredible sacrifice pay off when their hand is held up in victory.
About the Contributor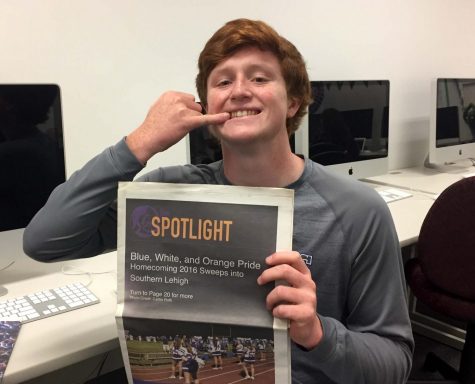 Quinn Schmidt, Sports & Entertainment Editor
Senior Quinn Schmidt is a third-year  staff reporter and second-year entertainment editor for the Spotlight. This year he also stepped up to fill the...