Reflections on a Four-Year Journey to Gold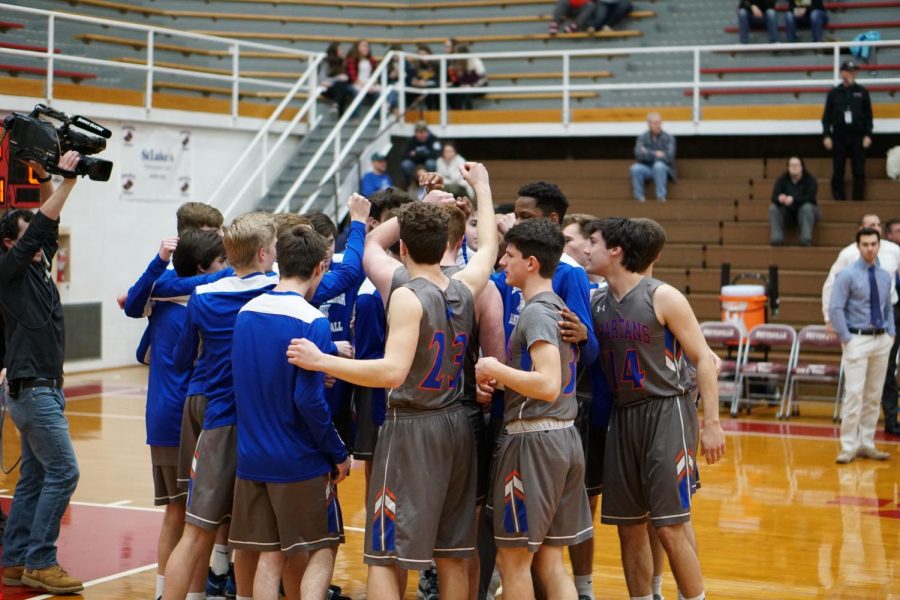 RefBasketball recently suffered a generational shift that has nearly eliminated an entire skillset. Coaches and fans now favor the players who can shoot the ball from half court and make flashy passes. I'll be the first to admit that watching a player fight for a position underneath the hoop isn't the most exciting thing to watch. I would much rather watch a high-scoring affair with overwhelming offenses raining down threes on helpless defenses. But frankly, I'm not that good a basketball player to make that happen.
As an athlete at Southern Lehigh High School, I've been honored to play alongside some of the Lehigh Valley's finest on the basketball court. I've grown up watching players like Jacob Cassel and Jack Zamichieli dominate opposing teams not with their scoring ability, but with their passion. This season, I was able to take a page out of their book and use what I learned from them in order to achieve something two of Southern Lehigh's most talented centers never accomplished: winning a gold medal.
My freshman year I tried out for the JV squad but was sent back down to the freshman team because my offensive firepower was severely lacking. That year the varsity team went 18-7, and fell short of the ultimate goal when they lost in the Colonial League semi-finals. The entirety of the season, most people were captivated with senior Jacob Cassel's post moves, allowing him to terrorize teams with his 6'5" frame. But I was more intrigued with his mentality: the way he took hold of games and managed to win them almost single-handedly.
In a regular season game late in the season with large playoff implications, fans witnessed Cassel's supremacy. Although Salisbury was projected to win, Cassel thought otherwise. He willed his team to a 56-52 victory, throwing down a makeshift dunk to put the punctuation mark on his senior night. Sitting in the stands, I saw him flip the switch and turn on his warrior mentality. As the fourth quarter drew to a close, he pounced on every loose ball, tracked down every rebound, and blocked every shot.
Walking out of the gym, it was clear to spectators on both sides that he just wanted it more. He wanted to win, and with intensity and energy, he went out and stole it from a more talented team.  
The following year, my sophomore season, senior Jack Zamichieli took the reigns as team captain. Lucky enough for me, "Zam" lived in a neighboring development, and he regularly took me home from practices.
I was able to spend countless hours in the gym with him long after the rest of the team was gone. I braced myself with a bag as he charged into me, practicing finishing layups with contact. My meager frame was never much of a challenge for him, but the way he practiced establishing physical superiority in the paint stuck with me.
Unfortunately, like Cassel, Zam was unable to capture the ever-elusive gold medal. I watched from the end of the bench as they fell to Bangor in the Colonial League championship. Coach Tannous hung a silver medal around my neck for the first time, a feeling I would know all too well by the end of the following season.
I matured over the offseason between sophomore to junior year. Football workouts whipped me into shape, and I filled out into a more Zam-esque physique. On the court, my warrior mindset was setting in. Two years of watching Lehigh Valley's premier center work up close was beginning to pay off.
I was able to work my way into the starting lineup and my role on the team quickly became clear. Freshman sensation Daryl Coleman resembled Kevin Durant, scoring on defenders at will with his lanky frame. The sophomore backcourt of Kyle Hoff and Chris Andrews gave opposing coaches headaches with their shooting ability and ball-handling. All that was left was a physical post player to eliminate the rebounding void in the lineup.
Although I was severely underperforming on the offensive end, I made up for my shortcomings with focus on what I knew I could control. Like Cassel and Zamichieli, my intensity was never lacking. I was always the first to hit the floor in order to track down a loose ball, and I became the premier rebounder on a primarily three-point shooting team.  
I only attempted four three-pointers the whole season, scoring a grand total of 110 points. (To put that in perspective, recent 1,000 point scorer Ellie Cassel scored 113 points in the first 10 games of this season.) However, I earned my team countless extra possessions, dishing out rebounds to my teammates for wide open shots.
Unfortunately, my game wasn't there yet. Our team managed to limp into the playoffs after recovering from a 12-game losing streak during the regular season. After we staged an upset at Notre Dame Green Pond, followed by another upset of Moravian Academy, we fell to Bangor in the Colonial League Championship for the second year in a row.
Yet again, Coach Tannous walked down the line and placed a silver medal around my neck.
After a relatively successful junior season, I put on a few more pounds in the weight room over the offseason. Standing at 6'2", 200 pounds, in my senior year, I was still well below proper height to play the center position.
With no preseason media coverage, my team was counted out before this season even began. We only validated everyone's opinions of our team when we crawled out to a 4-7 start. In the middle of December we found ourselves fighting to keep our playoff hopes alive.
I fell back on what I learned through four years of basketball underneath Cassel and Zamichieli. With my senior year on the line, the final stages of my game finally fell into place. Much like Cassel did against Salisbury, I played every game with a do-or-die mindset.
A shift in the starting lineup placed me alongside junior Asher Smith, whose game closely resembles mine. With the two of us on the court at the same time, it seemed like a whole new game.
Every time the ball hit the floor, the Spartans ended up with possession. It was barely off the rim before someone in blue and white hurled their body at the loose ball. I became the head of a hungry snake, strangling the life out of the Colonial League one opponent at a time.
After the rough start, our momentum shifted, prompting a stout finish to the season on an 11-game league win streak. We headed into the playoffs with a number two seed and a first round bye, invigorated with confidence.
Just a few days prior to our semi-final matchup with Notre Dame, the Colonial League all-star team was announced. The number two team in the league placed only two players on the all-star ballot. Chris Andrews landed second team honors and Kyle Hoff was recognized with Honorable Mention.
Although we were cheated, it only added fuel to the fire. Four players scored double digits against Notre Dame, with Andrews and Trey Trevis leading the way with 15. As a team, we valued comradery more than accolades, and it showed on the court. Where some teams in the league relied on one player to carry the entirety of their offensive production, we all split the workload. In the end it paid off, and we advanced to the league championship with a 64-58 victory.
From there it almost seemed like destiny. We were already a capable team, but then we finally understood the value of teamwork. Playing Bangor in the league championship for the third year in a row, everyone in the gym felt like it was our turn.
Both teams were well known in the regular season for their dynamic offenses. Trevis and Andrews kept defenses guessing with their quickness and scoring ability. Hoff tore through defenders like he had the ball on a string, dishing out pinpoint passes to Smith and me down low. John Coyle became a lights-out shooter off the bench, and Coleman proved to be a matchup nightmare for anyone who dared to guard him.
On the other bench loomed Ben Holland, a four-year varsity starter and league MVP averaging 22 points per game. But ironically enough, the Colonial League championship was a slug fest featuring lengthy possessions and poor shooting. Ultimately, it came down to effort plays and hustle, catering to the skills I learned from my predecessors.
The student sections on both sides were not left with much to cheer about as neither team scored more than 40 points. The game fell short of many spectators' expectations of an offense-heavy duel. Although the low-scoring affair was packed with tension, as neither team held a lead more than seven points, the game's excitement was not what modern-day basketball fans expect.
That is until the last 15 seconds. With the game on the line, and the whole team behind him, Kyle Hoff stepped up to perfectly defend Holland on the game's last possession. Coleman pulled down the rebound off of Holland's missed shot, and two free throws later we were Colonial League Champions for the first time in 25 years.
After three years of being defeated by the same opponent, Coach Ben Tannous walked down the line handing out a different medal. Instead of the dull silver medals from the previous two years, my team managed to achieve something recent Southern Lehigh basketball legends had not.
My entire sports career culminated in one moment as Coach Tannous placed the shining gold medal around my neck.
"Finally," I said.
About the Contributor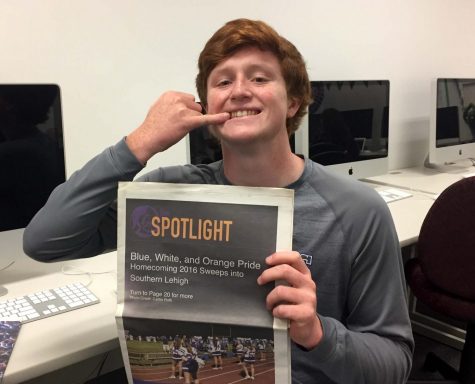 Quinn Schmidt, Sports & Entertainment Editor
Senior Quinn Schmidt is a third-year  staff reporter and second-year entertainment editor for the Spotlight. This year he also stepped up to fill the...