The Boys Volleyball Team's Quest to Become a Varsity Sport
Hang on for a minute...we're trying to find some more stories you might like.
Southern Lehigh has had an excellent track record with varsity sports. Many people may not know that the school also has a club boys volleyball team. This year, the team is looking to rebound from a Cleveland Browns-esqe one-win season in their fight to be recognized as a varsity sport. To succeed the Spartans will have to overcome the loss of many important players, and fight other obstacles facing a club team.
"We have a lot of new players this year starting up," said senior Connor Dougherty, who has played on the team 3 of his 4 years at SLHS, "and we lost a lot of our key senior players like Jack McColl, Spencer Gunkle, Justin Clarke. All of them were excellent volleyball players, so we're really recovering from that."
Along with the loss of major talent, finding a place to train the new crop of players is also a major issue for the team.
"Being club sport, we're pushed down gym times," said senior Cawley Waters. "Other sports take priority, so we have to alter our schedule around other sports before we get our gym time."
Most of the time, players and parents pay for the equipment and transportation to games, evident in the grey t-shirts with blue numbers across the chest and back. The sport gets costly.
"We've had a few players that didn't want to pay for it because it was too much and they needed [the money] other places," said Waters.
Despite not having the funding or luxury of priority gym time to practice like the varsity teams, they put in just as much if not more effort into the team, striving to finally reach that level.
"I want to prove that we deserve to have that varsity status, so we work harder to obtain it," Dougherty said. "We've had good seasons. In my freshman year we went to states, so we did do good. These past couple of years we've dropped off because we had the looks of getting varsity status, and then I think when people hear it's just a club they're just like 'oh, I don't want to do that.'"
Things are already looking up for the team, as the team's coach, middle school physical education teacher Mr. Donald West, seems to have already gotten his students excited to try out for the team.
"I know this eighth grade class coming up is very interested in volleyball, so I'm very excited about that," junior Kyle Skrapits said. "Freshmen and sophomores really help the program, because they have three or four years to improve their skills."
With the current group of players and talent in the pipeline, the goal for the Spartans remains to give it all they've got and aim high for districts. With a tough schedule including the likes of Bethlehem Catholic and Freedom, the hopes are for an impressive season.
"Unfortunately, at the beginning of the season our expectations were kind of low, but I think now that we've played a couple of games we've realized that we have more potential than we thought," Skrapits said.
"We have more basketball players coming out this year, like Liam Gaughan [junior], Asher Smith [junior], and Quinn Schmidt [senior], so we're getting definitely more athletic," said Dougherty. "If we make states, we'll end up playing teams like Parkland."
Hopefully, with a strong season, the Spartan volleyball team can catch the eye of the school board and finally have all their hard work come to fruition with the honor of becoming a varsity sport.
About the Writer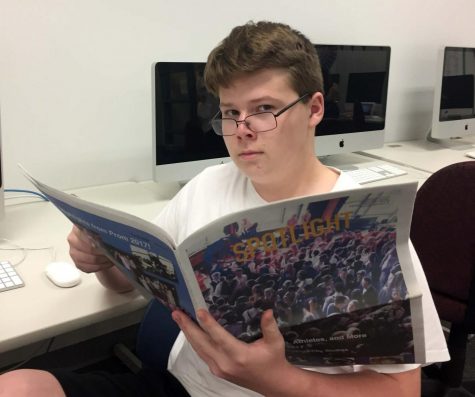 Griffin Schmoyer, Social Media Editor
Senior Griffin Schmoyer is a second-year staff reporter and social media editor for the Spotlight. He has attended Southern Lehigh since kindergarten,...