Running to Success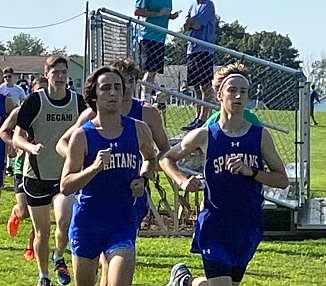 Silver medals have never felt so nice. This fall, the Southern Lehigh girls cross country team earned the right to compete in the state championship together for the first time in 40 years after senior Natalie Morgan, with her eighth place finish, and junior Maura Lenhart, with her thirteenth place finish, propelled the girls team to second place in the PIAA District XI 3A cross country championship. 
This was after another undefeated season for the girls team, with a win streak of sixty-six meets, and third straight Colonial League championship. Leading the team, senior captain Autumn Garges finished seventeenth individually in the Colonial League championship.  The team's Colonial League championship was secured through the top 10 finishes of senior Natalie Morgan in third, junior Maura Lenhart in fifth, senior Lauren Meinhold in sixth, and junior Alaina Patel in ninth. The team felt that competing at the state championship was a great way to end a phenomenal season.
"It was fun and an honor to be the first girls team to make it to states in 40 years," junior Maura Lenhart said,"and it was very special knowing other very talented runners didn't get to go together as a team, so we tried to make the most of it." 
Both the boys and the girls teams are coached by Justin Kocis, an experienced coach who has won numerous league titles with both the boys and the girls cross country teams. This year he earned his hundredth win with the boys team. His coaching has allowed the girls to win three consecutive league championships and 66 straight meets, as well as being very competitive in invitationals. 
Although the boys team as a whole didn't make it to the state championship, it was still a successful season. Seniors Dominick Lisicky and Alex Kane moved on to the state meet after their respective second and seventh place finishes at the District XI 3A meet, helping the team place fifth overall. Lisicky raced in states for the third time in his high school career, and Kane competed in the state meet for the fourth consecutive year.
"It was definitely an experience because I wasn't sure if I was going to be able to compete this season or even run due to an injury from the summer," Kane said. 
After sustaining a serious leg injury in June, Kane worked back from not being able to run at all, to becoming a contender to win both the league and the district. Ultimately, he placed fifth in the Colonial League alongside Lisicky who placed third,  leading the boys team to place second in the league and fifth at districts. First time varsity runners freshmen Greg Rubino and Peter Jones as well as junior Drew Bruck also inspired the team's success.