SL Theater Presents The Drowsy Chaperone
It's show time again at Southern Lehigh High School! Students in the theater program are preparing to perform the musical comedy, "The Drowsy Chaperone."
"[This musical] probably bears the closest resemblance to 'Shrek'; however, it's still not similar," senior Madison Hallman, who plays Janet Van de Graaff, said. "Unlike many of the past shows we've done, this show is very much a comedy, so much in fact that I would say it's is more of a comedy then a musical."
This musical is much newer than some of Southern Lehigh's recent productions such as "42nd Street" or "Cats."
"The Drowsy Chaperone" features an agoraphobic man with a passion for musicals. One night he listens to his favorite musical, "The Drowsy Chaperone," and the record comes to life in his apartment. The record's storyline follows an actress named Janet Van de Graaff who is soon to be wed to Robert Martin. Janet's producer, relying on her to sell his show, works desperately to stop the wedding, creating room for other enjoyable sub-plots and side-stories to take the stage.
"The hardest part of putting the show together so far is probably portraying the fact that the actors in the show within a show are actually a record playing," sophomore Giulana Augello, who plays the title character, said. "At some points the record gets turned down or stopped, which results in the actors getting quieter or freezing for elongated periods of time. Also, at one point, the record starts to skip, so the actors on stage must perform the same movements over and over until the record skip ends."
Unlike the classic numbers from the fall production, "The Sound of Music," this musical features jazzy tunes and upbeat melodies.
"The musical style of the show is jazz and big band," Augello said. "In the orchestra this year, there are no strings or woodwinds, but mostly brass instruments in order to portray the style of music correctly."
The performers look forward to perfecting their performance for opening night.
"I'm really excited to finally piece the show together and perform," sophomore Lexi Brown said.
The show will run from March 4 to March 8.  For tickets and information, call 484-919-3851 or email [email protected]
About the Contributor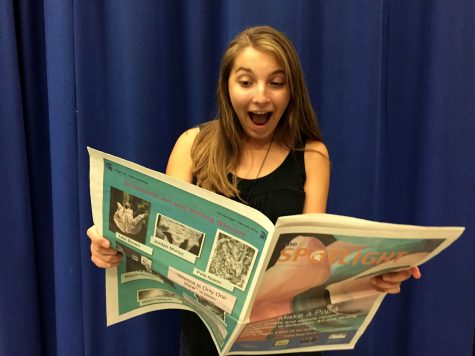 Talia Trackim, Editor-in-Chief
Throughout her four years at Southern Lehigh High School, Talia Trackim has surely established herself as the girl who does it all. She joined the Spotlight...