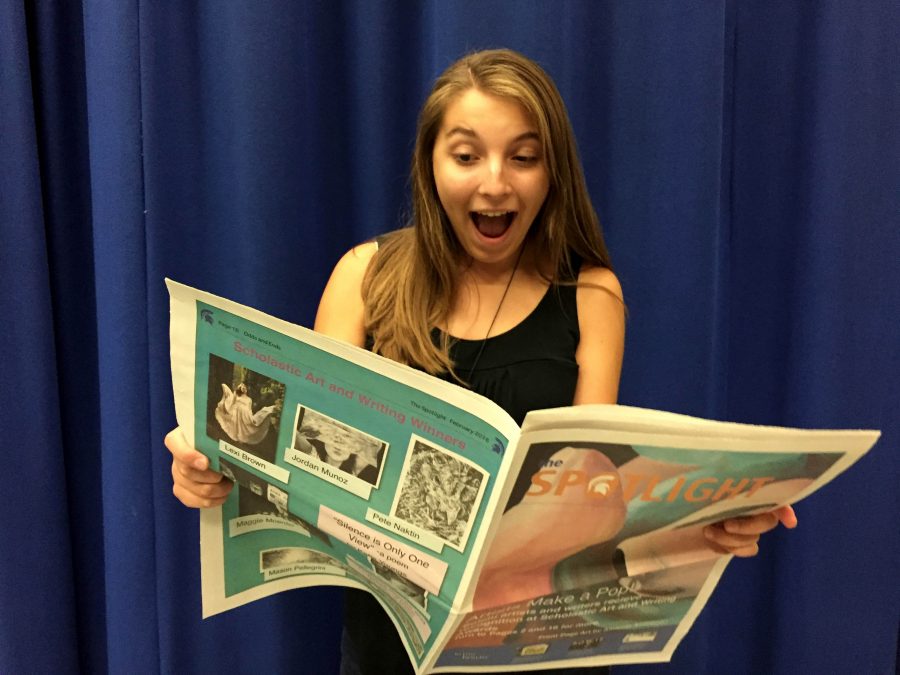 Throughout her four years at Southern Lehigh High School, Talia Trackim has surely established herself as the girl who does it all. She joined the Spotlight staff in her freshman year as a staff reporter, became features editor sophomore year, and has reigned the past two years as editor-in-chief.
On top of managing the Spotlight, Talia has also been a member of the speech and debate team for four years, and part of both Scholastic Scrimmage and Teen Counseling for three years. She also co-founded the Literary and Arts Club her sophomore year, and has been leading it ever since. Outside of school, Talia was on the Camelot for Kids Junior Board of Directors, has been a writer for a women's cultural blog and magazine since her sophomore year, and a part of Her Campus high school ambassador program.
Looking back, Talia especially treasures the times she spent with the speech and debate team: waking up at 5 a.m. to compete all over the country, visiting Florida and spending the whole day at the beach instead of watching final speech and debate event rounds (sorry, Mr. Long), freezing to death at Harvard, and playing mafia in the car.
Two of her most precious high school memories are when she helped raise over $4000 for the Leukemia and Lymphoma Society (LLS) her junior year, and when she took part in a Global Nomads program her freshman year that allowed her to video conference with a girls' school in Afghanistan and a boys' school in Pakistan once or twice a month for six months.
However, newspaper will always hold a special place in Talia's heart.
"I can't not say that it's stressful, but it's also been a really huge part of me and my high school experience," she said, "and has obviously shaped the career path I'm going down."
Talia will be attend Syracuse University with a dual enrollment in the Newhouse School of Public Communications and the College of Arts and Sciences. She plans to major in either Public Relations or Magazine Journalism, and some other kind of liberal arts major that will give her a special expertise in a certain area. In 10 years, she sees herself hopefully working at a nonprofit organization or social good company such as Education First.
"Something that I want to do in my career is tell stories about 'what' -- for example, what it's like to live with a mental illness or what it's like to live in
this
region of the world or do this and do that," Talia said. "I think reading those stories and engaging with those experiences with other people is such a valuable tool to tap into people's empathy and compassion, build bridges, overcome differences, cross barriers, and make change."
Her biggest advice for underclassmen? Just breathe. Everything will be okay.
"That sounds so cheesy, but in the last few months, just being accepted into college and knowing what my future is going to look like, I wanna go back in time and slap my past self for stressing myself to death about little things that in the moment seemed so big, but are so small in the grand scheme of things," Talia said. "Allow things to happen, and allow your experiences to shape you. You are not defined by what other people say about you: you are defined by the decisions that you make, the people that you surround yourself with, and the things that you enjoy."
While Talia's talent and ingenuity will certainly be missed by all of us here at the Spotlight, we look forward to all of the great things she'll do, and wish her the best of luck with her future plans!
Follow Talia on twitter
@taliatwrites
Talia Trackim, Editor-in-Chief
May 24, 2017

McGill, Colley Build Leadership and Careers as Sea Cadets

(Story)

Apr 18, 2017

Beauty and the Beast: A Must-see for 2017

(Story)

Apr 07, 2017

Southern Lehigh High School Initiates Policies and Procedures to Address Intolerance and Acceptance in the District

(Story)

Feb 23, 2017

Bromances and Womances: Mr. Ryan Haupt and Mr. Joseph Castagna

(Story/Media)

Dec 21, 2016

Mr. Fisher Puts a New Swing on Jazz Band

(Story)

Dec 20, 2016

A chat with CNN Senior Legal Analyst Jeffrey Toobin

(Story)

Dec 20, 2016

The Success of "Hamilton" is "Nonstop"

(Story)

Dec 19, 2016

Male Staff Members Grow Mustaches for Men's Health

(Story)

Nov 15, 2016

Southern Lehigh High School Addresses Issues of Acceptance and Diversity

(Story)

Oct 20, 2016

SL Theater Brings Literature Class to Life

(Story/Media)

Oct 20, 2016

Pennsylvania Hazing Policy Hits SL

(Story)

May 25, 2016

Summer Does Not Stop Spartan Success

(Story)

May 23, 2016

Seniors Snag Scholastic Awards

(Story)

Apr 05, 2016

Speaking of Speech and Debate…

(Media)

Mar 31, 2016

"Carousel" Spins Into Solehi

(Story)

Mar 30, 2016

Why Creativity in School Matters

(Story)

Feb 24, 2016

Bleach, Hair Dye, Shaving, and Chlorine

(Story)

Feb 24, 2016

Letter From the Editor

(Story)

Jan 11, 2016

Members of NHS Conduct Book Drive for Fountain Hill Elementary

(Story/Media)

Jan 07, 2016

Southern Lehigh High School Recognized as an Exemplar of 21st Century Learning

(Story)

Nov 20, 2015

Theatre Department Works Miracles in the Fall Play

(Story)

Nov 19, 2015

Let's Talk: Mental Health

(Story)

Nov 19, 2015

From Mummies to Murals

(Media)

Oct 26, 2015

Boys and Girls Soccer Teams Play for a Cause

(Story)

Oct 21, 2015

SL Alumni Matt Moisey Performing on Broadway This Fall!

(Story)

Oct 21, 2015

Ms. D'Agostino Joins Health & PE Department

(Story)

Apr 30, 2015

Every 15 Minutes Assembly

(Story)

Mar 25, 2015

Southern Lehigh Hosts First Ever Student Showcase

(Story)

Mar 23, 2015

SL Theater Performs The Drowsy Chaperone

(Story)

Feb 10, 2015

SL Theater Presents The Drowsy Chaperone

(Story)

Jan 16, 2015

Scholastic Scrimmage is no Trivial Matter

(Story)

Dec 10, 2014

The Feminist Student Union: one of Solehi's newest clubs

(Story)

Nov 30, 2014

Student Poets Attend Festival at DeSales

(Story)

Jun 03, 2014

Racial Discrimination Still Prevalent in Society

(Story)

May 29, 2014

Bullying Still Prevalent, but Students Can Take Steps Toward Prevention

(Story/Media)

May 11, 2014

'Global Nomads' Connect with Students in Middle East

(Story/Media)

Feb 27, 2014

Does Social Media Fuel Depression?

(Story)

Feb 22, 2014

Block Scheduling Has Brought About Mixed Views

(Story)

Oct 15, 2013

Speech and Debate Team Competes at Yale

(Story)