'Global Nomads' Connect with Students in Middle East
Hang on for a minute...we're trying to find some more stories you might like.
When most students go to school, the first people they talk to are their friends or teachers. Not for this group of students. A group of 26 freshmen find themselves face to face with students from Pakistan and Afghanistan once a month.
"I think it's been an amazing cultural experience, and I mean, we wake up at 6:15 in the morning and sit in our civics classroom and talk to kids from Afghanistan and Pakistan!" freshman Sarah Mackin said. "That's really cool! It really is something that's once in a lifetime."
Global Nomads Group, the program in which the students are participating, is an international organization that encourages interaction between people from all over the world in hopes to change their preconceived perspectives of other countries. Global Nomads Group strives to give students the opportunities to work together, collaborate, and communicate despite their differences.
"I wouldn't consider it work exactly, because we're together and it's fun at the same time,"  freshman Georgian Fan said.
Once a month, the freshmen meet at 6:15 a.m. to video conference with students from SOLA, an all-girls boarding school in Afghanistan, and DA SKBZ, an all boys school in Pakistan. Students from all three schools participate in group discussions, debates, question-and-answer sessions, and 60-second showcases.
"There's a lot of assignments to be done. We have things, such as timelines [and] also the group project that we're working on," freshman Victor Aung said. "For example, Mrs. Quartuch has emailed us multiple times [the night] before a conference to do something important to prepare for the conference. It's sometimes last minute but we usually get those things done."
Even though the mornings are early, most students agree that it's worth it. They have previously expressed being surprised at how similar they are to the students in Afghanistan and Pakistan, despite the picture that the media typically portrays. Students also think they've grown in character because of the video conferencing.
"I think their general awareness about what it's like to be an Afghan or a Pakistani has grown tremendously, you know, and kind of dealing with their own assumptions and stereotypes," social studies teacher and Global Nomads adviser Mrs. Katie Quartuch said. "They've been open-minded enough to break those down."
Students from all three schools are also working on collaborative projects. Southern Lehigh Global Nomads participants are focusing their project on perceptions of other countries and how they're often skewed. They will be making a documentary presenting it to the community.
"We're working on it well. I'm excited to show it…to the community," freshman Brad Polek said. "I hope that it brings awareness to the community."
Global Nomads was established in 1998. It has involved over one million people in various programs, and has reached over 45 countries. It has become a global leader recognized for bringing together countries from all over the world through education and media organization.
Students have two more video conferences left, and they will be devoting the rest of their time towards the collaborative project in hopes to spread their message.
"I think it's really eye-opening," freshman Allyson Yanega said. "The kids there are just like us. Life's not that much different there."
There will be a public showing of the Global Nomads documentary at Southern Lehigh Public Library on Thursday, May 29, from 7:30-8:30 p.m.

About the Contributors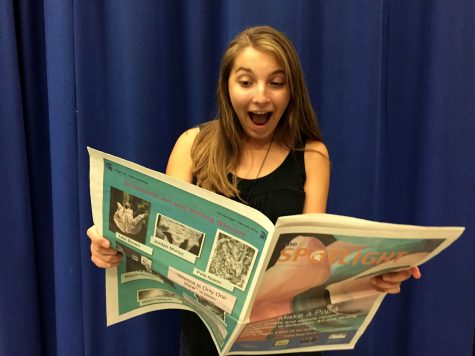 Talia Trackim, Editor-in-Chief
Throughout her four years at Southern Lehigh High School, Talia Trackim has surely established herself as the girl who does it all. She joined the Spotlight...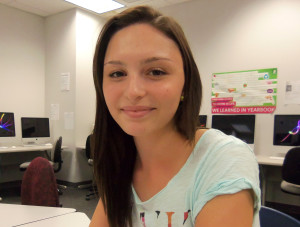 Taylor Marouchoc, Staff Reporter
Freshman Taylor Marouchoc is a first-year staff reporter for the Spotlight. She has always loved writing.  While she is considering a career in writing...