High school basketball teams get new coaches
For the first time, both Southern Lehigh's boys and girls basketball teams have entirely new coaching staffs. The players recognize they will have to adjust to new coaching styles, especially after unusual seasons the past two years due to the pandemic. This winter these student athletes are ready and excited for a more "normal" season with their new coaches.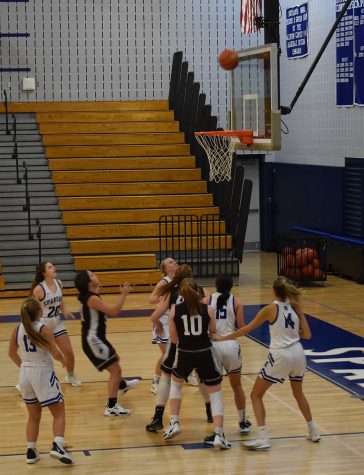 Girls' Basketball:
Head girls varsity coach Sydney Cyr is a 2015 graduate of Southern Lehigh. She played college basketball at Arcadia University, becoming the captain of the women's team her senior year. Last year, she was assistant coach for the Southern Lehigh Middle School girls basketball team. 
Coach Cyr is joined by assistant varsity coach Tracy Cyr, and the co-junior varsity coaches Jenna Lynch and Matt Capeheart. All of the girls' coaches have high school or college playing experience, and bring their knowledge, drive, and constant positive energy to lead Southern Lehigh's athletes.
 "All of our coaches are very friendly and helpful," senior Katie Wierer said. "I feel that they have a positive impact on the girls' basketball program." 
"So far they have been really friendly, and they bring a lot of experience to our team," senior Sarah Wierer said.
Motivation can be an essential factor in performance during games. The girls say the coaches have brought an encouraging atmosphere to the team both during the games and behind the scenes. 
"All of the new coaches have really pushed our team and expect us to give 100% when we are on the court," said Katie Wierer. "I appreciate how much time and effort they spend scouting other teams and analyzing what we need to improve as a group."
While the girls basketball players miss their previous coaches and their techniques, they have benefited from the coaching style of the new staff.  
"I don't think that you can compare our new coaches to our old ones because their coaching styles are different. One isn't better than the other," Sarah Wierer said. "I feel that it is beneficial for our team to get a new coach, so we gain a new perspective and a new viewpoint on how to play the game."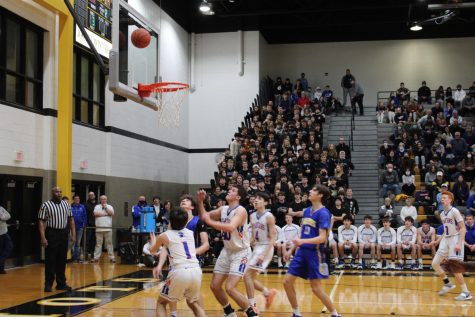 Boys' Basketball:
The 2022 boys basketball team is led by head varsity coach Ryan Wehr, who has plenty of past coaching experience.  He is a former assistant basketball coach at Parkland High School and Emmaus High School, and most recently the head coach at Brandywine Heights High School in Berks County. Wehr is joined by four assistant varsity coaches: Andrew Nicholas, Michael Ouly, Brian Busolts, and Bob Bogwist.
The players on the team have only positive opinions about their new coaching staff. Similar to the girls' experience, the boys say the coaching style is certainly different from previous years, but in a good way.
"Obviously, our system of basketball is different compared to previous years," junior Christian Gordon said, "but I think their system is very helpful on our team."
Several players say the coaches provide them with a support system and uplifting atmosphere. This encouragement and mentoring boosts the boys' morale and makes them work harder in practices and games. 
"Whether I need personal or coach advice, I feel comfortable coming with an issue to any of my coaches, which is really important," senior Dominik Lisicky said.
The amount of pressure these players feel during a game can easily become overwhelming, and they worry about making mistakes. Every player wants to make the coaches proud. 
"You can't make too many mistakes or they will sub you out in the game," said one player, who asked to remain anonymous. "Sometimes I'm scared to do too much during the game because if I mess up, then I will get the coaches upset."  
Constructive criticism is something these boys appreciate from their coaches. When the players are doing something wrong, their coaches take the time to talk to them about it suggesting ways to improve . These pointers benefit the team tremendously, showing the players how much these coaches care for their success.
"They motivate me whenever I am having a bad practice or game," junior Quincy Brunner said. "They take the time to go over plays and watch films with the team. The coaches let me know what I'm doing wrong, how to fix it, and tell me to keep going."