"Successorys" Reward Teacher Success
A new system to Southern Lehigh that allows students to reward their teachers for their helpfulness, guidance, and positive influence.
Hang on for a minute...we're trying to find some more stories you might like.
Maybe you've seen the half sheets of paper appearing around your classroom or hung up on the wall. On most of these sheets, there's one word that stands out the most: "Successory."  What are they?
"In my mind, they're basically a thank you note with a reason," science teacher Mr. Rick Dreves said.
The Successory (pronounced Suhk-ses-uh-ree) program is new for Southern Lehigh. They provide students with a way to say "thank you for helping me out at this point" and to give recognition to the staff for doing a good job.
"The idea is that we have lots of ways to recognize students for the great things they're doing, but sometimes we forget about the adults,"  Superintendent Leah Christman said.
If a student wants to fill one out, they can go about doing it one of two ways.
To submit a Successory online, go onto the school website and click on the student center. On the left side is a link called "Successory Recognition." Once a student has clicked that, it will take them to a page informing them about the Successory program. Then, they simply have to click on the "Successory form" link, fill out the form from there, and press submit.
The second option is to go to the office and grab one of the paper forms. If you choose to do that, fill out both the yellow and white form. Then, all you need to do is hand it to the office secretaries. The reason for filling out two forms is because one copy is kept for the records, and the other is sent to the corresponding staff member.
"As a teacher who got a few, I can say it's very rewarding," math teacher Mr. Matt Greenawald said.
Southern Lehigh administrators received the idea from Dr. John Draper, a speaker that came to the school to speak to the faculty on an inservice day just before school started. Dr. Draper discovered the program from the Sioux City School District, and has been spreading it to other schools ever since.
"I've gotten three," Mr. Dreves said. "They were the little pick me up I needed at the time."

About the Writer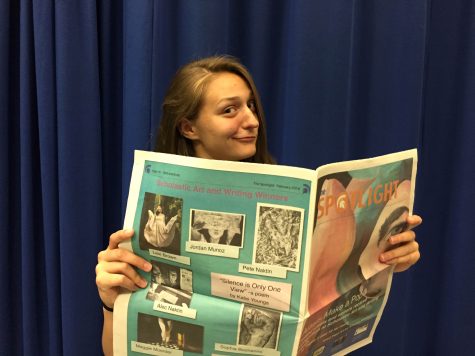 Allison Borelli, Features Editor
Allison Borelli graduates as a four-year Spotlight staff member. She has been a student reporter all four years, and features editor for two.

Outside...