Who's Who Behind the Scenes of 'The Little Mermaid'
Hang on for a minute...we're trying to find some more stories you might like.
Southern Lehigh High School's spring musical, "The Little Mermaid," premiered on March 14 and ran through 18 after several months of hard work. While the cast was singing, dancing, and learning their lines, the crew was building the production from the ground up. Of course, none of that would be possible without some help from director Mr. Matthew Wehr.
"I think [the program] has grown not just in students participating, but also in how many different ways students can get involved. There's so many other ways to be involved with [the musical]," Mr. Wehr said. "I think it's a very demanding creative process. I think it's very different than anything else around here and I think it appeals to students. It's certainly a lot of hard work  that you can't get around."
A musical wouldn't be a musical without the beautiful vocals of the actors, and sound technicians juniors Dalton Rupel and Brandon Myung were hard at work to ensure that all sounds and mics were ready to go for show days. They met from 2:30 to 5:30 Monday through Thursday after school to rehearse with the rest of the cast and crew.
"I make sure the actors can be heard, adjust volumes if they're a little too loud, mute and unmute people, the like," Rupel said. "Honestly, I knew nothing about sounds before this. Lizzy Kanzler was just like, 'Do you want to do [sound for the show]?' and I said yes."
Deep under the sea it can get a little dark, but spotlight technician junior Chloe Scozzafava makes sure to brighten up the place for all to see. Her job is to shine the spotlight on the main actors when necessary.
"My favorite part is working with everyone and just having fun," Scozzafava said.
Another important part of the show is the set design, and student painters worked diligently under the direction of art teacher Mrs. Courtney Bathgate. Volunteer adults built the sets, and then the painters came up with creative designs for them. Long hours are often put in to make the sets as ornate as they are.
"I would recommend painting sets to future students because it's fun, [and] it looks good for colleges if that's something you need," set painter senior Jill Schmell said. "And if you're not doing anything after school it's a good activity to meet new people."
After Mrs. Bathgate's student paint the beautiful sets, stage hands are there to ensure that everything is in its proper place throughout the show. Before the curtains go up on each and every scene, students are working hard to ensure that every prop is perfectly situated.
"I love being part of the play, but I can't sing, so I might as well just help out in anyway I can," junior Alexa Spinosa said.
These volunteers and many others helped make the magic of the play happen in just a few short weeks, and their work successfully supported the entire cast and crew in another of Southern Lehigh's prized productions.

About the Contributor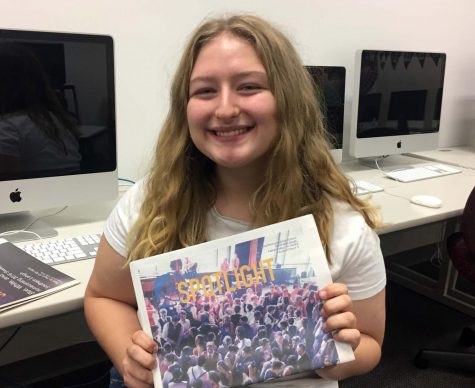 Sarah Jacobson, Editor-in-Chief
Senior Sarah Jacobson is a third-year staff reporter, former Our World editor, and current Editor-in-Chief of the Spotlight. She is also the head of social...