Will Softball Sustain Success?
Hang on for a minute...we're trying to find some more stories you might like.
Southern Lehigh's softball team is one of the school's most decorated sports. All graduating senior classes have won league and district titles. After an amazing last season which included a 16-game win streak, the next question is will they be able to repeat as champions?
"The fact that if you want to be a success in the terms of wins and losses, you have to earn it. It's not going to be given to you," Coach Brian Neefe said, "And you have to be willing to work hard enough to be successful, in the terms of wins and losses. We've had some very successful teams, and in the 44 years I've coached we've never had a losing team."
Southern Lehigh Softball has an impressive record. Not only do they have 27 Colonial League titles but also six District XI first place finishes. With only four starters returning to the team, and only three of them being seniors, the team could possibly face a tough season.
"It's definitely a challenge," senior Sophia Rizzo said, "but it's fun to be able to lead the team and give your experiences and advice in situations like that and in general."
The three returning seniors, including Rizzo at center field, Courtney Herr at first base, and Samantha Tankred at shortstop are also captains.
 "Next year we will have no seniors, so we will have two years to build a pretty strong team," sophomore Danielle Barnes said.
Barnes, the pitcher, is the only other returning starter. The other 13 members of the team are freshmen and sophomores.  
"It's going pretty good right now," she said. "I think we're really bonding as a team so far."
In his 44 years of coaching, Neefe has about 750 wins to his name. Despite the tough competition within the league, Neefe believes that the team can win their 28th Colonial League championship.
"He [Neefe] seems tough, he doesn't always sound the nicest, but he has a good heart," sophomore Chloe McNulty said. "He knows what he's talking about."
The team faces especially tough competition in Pen Argyl, Catasauqua, and Northwestern. If they make it to districts, they'll face fierce rivals in Bethlehem Catholic.
"We just have to play our hardest," McNulty said. "We're mostly relying on sophomore and freshmen right now, so we're going to have pull our own weight."
Southern Lehigh opened the season with an 8-0 loss to a Northwestern team that returned all but one starter from last year's team.
"[Our goals are] simply to have everyone play as well as they possibly can. To learn some values. It's always nice to say our objective is to have fun," Neefe said. "Well is that the number one objective in English is to have fun or math class to have fun? Supposedly they're teaching something of value, we would like a look at the same thing."

About the Contributor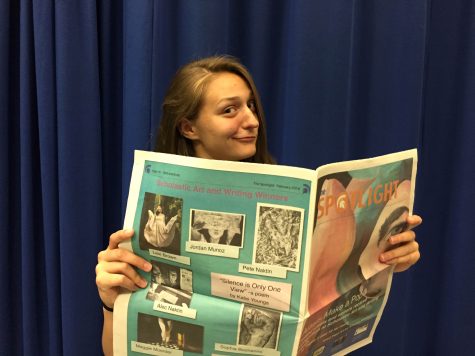 Allison Borelli, Features Editor
Allison Borelli graduates as a four-year Spotlight staff member. She has been a student reporter all four years, and features editor for two.

Outside...