The AAF Provides Fans with More Football


For anyone that isn't a fan of the New England Patriots, Super Bowl LIII probably left a bad taste in your mouth, and ended the football season on a sour note. However, hope is not lost. While it may not be NFL-caliber play, the Alliance of American Football (AAF) has shown plenty of promise, despite only being a few weeks old.
The fledgling league was first announced on March 20, 2018 by founder Charlie Ebersol, and is run by many former NFL players and executives. Previous NFL general manager Bill Polian and legendary Pittsburgh Steelers safety Troy Polamalu, along with executive J.K. McKay oversee the league. Other famous advisors include another former Steeler in the form of wide receiver Hines Ward, New York Giants and Oakland Raiders defensive end Justin Tuck, and MIke Pereira, a retired referee and current rules analyst for Fox's NFL coverage.
The AAF season started on February 9, 2019, and is a 10-week season before a one-round playoff, and then the championship game. The league consists of only eight teams at the moment, located in San Diego, San Antonio, Salt Lake City, Arizona, Orlando, Memphis, Birmingham, and Atlanta. These teams already have some recognizable faces, including former Cleveland Browns running back Trent Richardson, now with the Birmingham Iron, and former Penn State quarterback and NFL flop Christian Hackenberg, continuing to be just that for the Memphis Express.
While the quality has been likened to that of an NFL preseason game, some of the rule changes and innovations to the game make the AAF more compelling than one would think at first glance.
The major difference right from the start is that there are no kickoffs or extra points after touchdowns. The team that chooses to receive the ball after the coin toss sends their offense out to their own 25-yard line to start the game. After every touchdown, teams must go for two-point conversions.
Even onside kicks have been changed. If a team is down by 17 points or more within the last five minutes of a game, the team must attempt a 4th down and 12 from their own 28-yard line to keep the ball.
There is also a limit to the number of players you can have rushing the quarterback on passing plays. No more than five players can attack the quarterback, and if there are, a 15-yard "illegal defense" penalty will be called.
Overtime is another huge change. Sadly, it is yet another league that won't take up the successful college football format. In the AAF, each team gets the ball for one drive, starting with a 1st and goal at the 10-yard line. No field goals allowed: it's touchdown or bust. The league has said that there will be only one overtime period, and games will end in ties.
The last major change is in the officiating. All games have a "sky official," or an official in the press box who can watch in real time and overturn obvious errors in officiating. He has the ability to bypass replay and immediately change the call. For example, in the 2019 NFC Championship game, a sky judge could have immediately called down to fix the obvious missed pass interference call on Los Angeles Rams cornerback Bradley Robey-Coleman.
As mentioned, this league isn't NFL quality. But it is refreshing to see some solid football being played. Games can be incredibly high-scoring, or tough defensive struggles. The league has managed to impress many a skeptic, and it could really blossom into something special.
I think that some players in the AAF have the ability to play at the NFL level, and in a way, the league could become a developmental league of sorts, in the same way the Lehigh Valley IronPigs and Phantoms are minor league affiliates for the Philadelphia Phillies and Flyers, respectively. NFL teams could in the future send talent down to the AAF to grow and give them some playing time. The league would probably need to expand for that to happen, but there is potential.
Overall, the AAF is a very interesting league to watch. It provides additional quality football action throughout the year for fans. With enough funding and new waves of talent, it could develop into something incredibly special. Keep your eyes on this little wonder. I, for one, have definitely "Joined the Alliance."
About the Contributor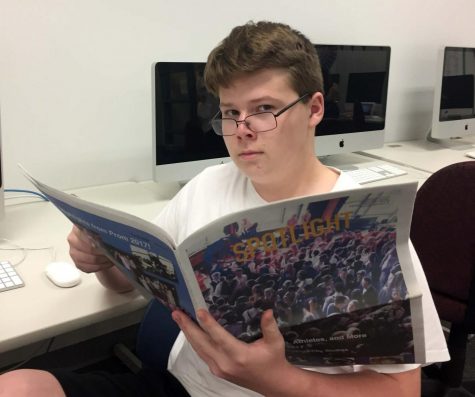 Griffin Schmoyer, Social Media Editor
Senior Griffin Schmoyer is a second-year staff reporter and social media editor for the Spotlight. He has attended Southern Lehigh since kindergarten,...