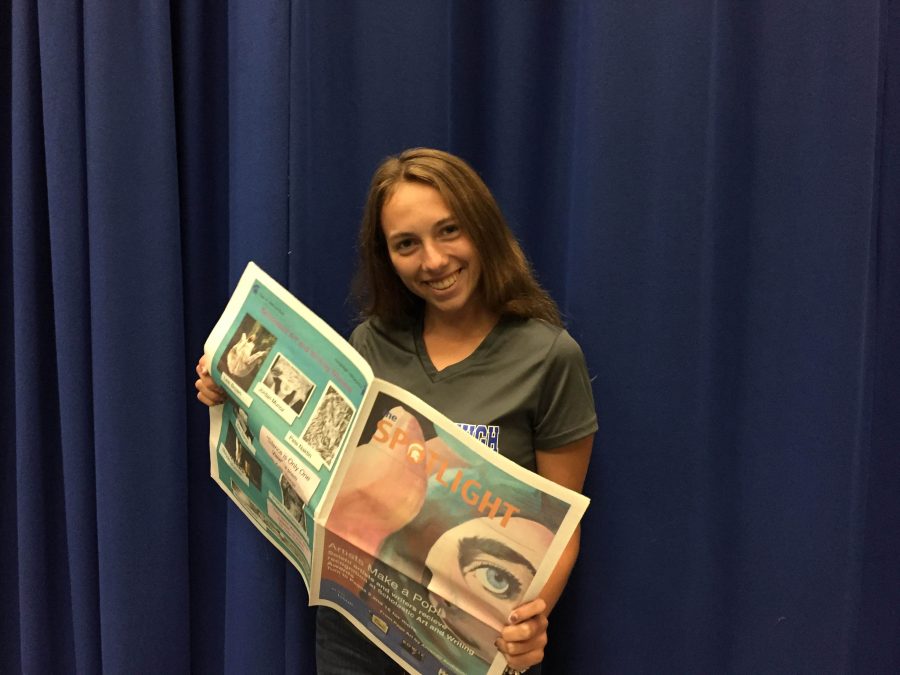 Nicole Schroy graduates as a four-year staff member of The Spotlight. In her sophomore year, she was the Arts and Entertainment editor, and she switched roles to being the web editor her junior and senior year.
"It is really rewarding," Schroy said. "We get feedback from other students and [are] the voice for the student body."
This fall Schroy will attend King's College for their five-year Physician's Assistant program. In the undergraduate program, she will major in medical studies with a minor in biology and neuroscience. In the graduate program, Schroy will get her Master of Science and her Physician's Assistant degree.
"I am really excited to break away from Center Valley" Schroy said. "For the past 18 years this is all I have ever known and it is going to be fun to meet new people in a new place and do it all on my own."
During her four years in high school, Schroy was the Class of 2017 President, the co-founder of the Art and Literary Society, the web editor of Key Club, and the vice president of Spanish Club. She also was a teen counselor and played field hockey. Outside of school, Schroy enjoys horseback riding and volunteering at Lehigh Valley Health Network.
"When ever I am surrounded by my friends, I have this bittersweet feeling. I look around and I am so proud of all my friends, but it is also sad because I am sure we will branch off," Schroy said. "There are some I know I'll stay in contact with and there are others that I am sure will be busy with their own lives."
She will miss her teachers the most, especially Mr. Sinkler, Mr. Castagna, and Mr. Dougherty.
"Even though some teachers may get a bad rep they, for the most part, understand their students," Schroy said. "Especially as a senior, I can connect with them because they are guiding me through senior year and prepping me for the real world."
Follow Nicole Schroy on twitter
@schnic17
Nicole Schroy, Web and Multimedia Editor
May 24, 2017

Students Raise Awareness with Silence

(Story)

Feb 23, 2017

Cheerleading Leads the Way to Nationals

(Story)

Dec 19, 2016

Wild Fans, "Wild World"

(Story)

Nov 15, 2016

Southern Lehigh High School Addresses Issues of Acceptance and Diversity

(Story)

Oct 20, 2016

Spartans in the South Pacific

(Story/Media)

May 25, 2016

Senior Torin Vanin Crowned 'Mr. Spartan'

(Story)

May 22, 2016

Take a Chance on Physics

(Story)

Apr 01, 2016
Apr 01, 2016

The Reality Behind the Socialist Stigma

(Story)

Feb 24, 2016

Are You Ready For Some Hockey?

(Story/Media)

Feb 24, 2016

New Year, New Options: Southern Lehigh Courses 2.0

(Story/Media)

Feb 23, 2016

The Dynamic Duo in "Sisters"

(Story)

Jan 15, 2016

As I Was Saying: Feminazi

(Media)

Jan 07, 2016

Maybe "Weed" Like to Legalize It

(Story)

Nov 20, 2015

Snap, Sack, and Attack Pediatric Cancer

(Story)

Nov 18, 2015

The Neighbourhood "Wiped Out!"

(Story)

Oct 27, 2015

Noah Hakim German Exchange Student

(Story/Media)

Oct 21, 2015

Cooking His Way Into SL, Mr. Zacher!

(Story)

Apr 30, 2015

Every 15 Minutes Assembly

(Story)

Apr 28, 2015

SL Travels to Spain

(Story)

Mar 25, 2015

Bye Bye Little Sebastian: Parks and Recreation's Final Season Farewell

(Story)

Mar 25, 2015

Southern Lehigh Hosts First Ever Student Showcase

(Story)

Jan 29, 2015

Running Track in a Winter Wonderland

(Story)

Nov 25, 2014

Does the school dress code unfairly target female students?

(Story)

May 29, 2014

Bullying Still Prevalent, but Students Can Take Steps Toward Prevention

(Story/Media)

May 07, 2014

En Guard! Luke Kitagawa Fences His Way to the Top

(Story/Media)

Feb 22, 2014

Technology and Time Management

(Story)

Nov 15, 2013

Spartan Period a Welcome Addition to New High School Schedule

(Story/Media)