Sustainable Nature Parks May Be Part of Upper Saucon Township's Future
On September 12, supervisors on the Upper Saucon Township committee reviewed the site development plans for transforming 90 acres of land into two new public nature parks. Committee board member Doris Clegg says her motivation behind the plan is to create "a passive recreation area within the township to reach all of the residents and provide spaces that bring those resources to everyone."
The two pieces of land include the 15-acre Benckeni parcel behind the Copperhead Grille on Preston Lane and the 74-acre Haring Tract on Passer Road. Both areas have been untouched for over a decade. However, since November 2016, the township has held eight meetings to discuss future plans of the land.
Many ideas have been considered for the two properties. The committee has based much of the utilities on public input.
"The Benckini Tract at the corner of Preston Lane and Bethlehem Park is a very suitable property for a sustainable park [because it has] a stream, level land and a variety of vegetation," Clegg said. "The Haring Tract, which used to be farmland located off Suter and Passer Roads…has some water features and potential area for a succession forest."
The Benckini Tract's proximity to Southern Lehigh's middle and high schools also provides many opportunities. The park would only be a third of a mile away from the schools, so it would be easily accessible.
"This space could act as an outdoor classroom where [students] could learn about native plants and animals, soil and water quality, and hopefully learn to appreciate natural spaces," biology teacher Ms. Jesse Mead said.
Students also agreed that developing a park could benefit the community in significant ways.
"I think that, especially considering how much land is being turned into housing developments in this area, it would be nice to have an outdoor space. Conserving the environment is really important, and if the public can enjoy and learn things from the park, the it would be beneficial to everyone," freshman Kayla Howie states.
Current ideas on the Master Site Plan include a walking trail, bridges, parking lots, a seven-acre dog park in the Haring Tract, and educational staging areas. A sustainable park could also foster relationships between children and nature at a young age, community member Judy Krasnicke says.
"The idea of the nature park is to have a passive recreation area where…you're engaged with nature," Krasnicke said. "It relies heavily on native plants and takes advantage of the natural features of the land."
There are benefits to installing a natural park instead of a more traditional park with playgrounds or sports fields.
"It gives a whole range of other opportunities to the community that a sports field does not," Krasnicke said. "Athlete fields have a place in Southern Lehigh. However, the need for open nature spaces should not be discounted. Learning opportunities compliment the health benefits of parks such as these."
Even if the plan is approved, the projects are still far from completion. Clegg said it could take anywhere from two to seven years to complete the parks.
Although nature parks are generally much less expensive than creating and sustaining active parks, there are still costs involved. To facilitate the building stages, the township will look for grant money from various sources within the state to meet the budgetary needs. Both properties need much work to rehabilitate the vegetation. For example, the Beckeni property requires demolishing and restoring the defunct tree nursery.
"It is intended that invasive species will be removed and native plants will be planted," Clegg said. "There will be seeding of meadow areas, streambank restoration, riparian buffer and rain garden plantings with the intentions of keeping invasive plants out."
The next town meeting will be held on November 2 at the township building to further discuss the future of the two properties. Visit the Upper Saucon Township website, www.uppersaucon.org, for more information on upcoming events.
About the Contributor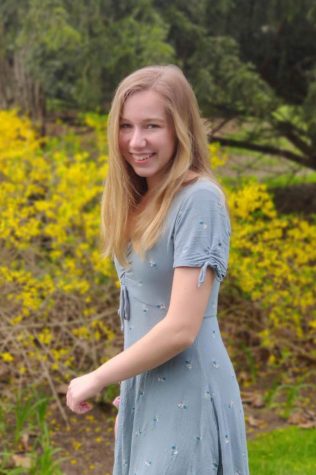 Saskia Van't Hof, Editor-in-Chief and Opinion Editor
Saskia Van't Hof is a fourth-year staff reporter and second-year Editor-in-Chief and Opinion Editor for the Spotlight. She is also president of Key Club,...