Where Are They Now? Jeff and David Alpert
Hang on for a minute...we're trying to find some more stories you might like.
After writing thirteen "Where Are They Now?" articles, I thought that since this is my last one, I had to go out with a bang. I kept on thinking about who I should choose to be the subject of my final article when I realized that I should choose the two Southern Lehigh alumni who mean the most to me: my brothers.
Jeff Alpert
In high school, most students spend their time playing high school sports coached by an employee of the school. However, 2010 graduate Jeff Alpert was coached by a Norwegian Olympic athlete. A member of the Young Medalists Team and Dual Temp Cycling Team, Jeff became a nationally ranked cyclist.
In 2007 and 2008, he traveled to compete in the U.S. Junior Road and Track Nationals Championships. The team also drove to Colorado in a tour bus, where they spent the week racing at the Colorado Springs Olympic Training Center. In 2008, he and his team members journeyed to Los Angeles, California, for two and a half weeks and competed in Road Nationals in Anaheim. They also raced at Track Nationals at the Home Depot Center, but Jeff was unable to compete at his top form due to a serious crash resulting in a fractured femur and two months of recovery. Thankfully, by 2010, he was back to racing, and spent four weeks traveling again with the Young Medalists.
"We competed in a stage race in Massachusetts, the tour of Red River Gorge in Kentucky, and the Tour de L'Abitibi in Canada," Jeff said. "Then our team flew out to Oregon to race at the USA Cycling Road Nationals."
All together, he competed in seven USA Cycling National Championships and two Nations Cups in Canada.
Along with cycling, Jeff participated in Boy Scouts and the Emerging Health Program. He achieved the Eagle Scout, which is the highest rank in Boy Scouts, and discovered his passion for medicine after shadowing doctors in various departments throughout the hospital.
"The most exciting and life-changing experiences occurred while I was shadowing doctors in the operating room, getting to stand right next to doctors performing open-heart surgeries, brain surgeries, laparoscopic appendectomies and many more," he said.
After high school, Jeff went on to graduate from Gettysburg College with a bachelor's degree in Health Science with a minor in biology. At Gettysburg, he was a member of the Gettysburg Recreational Activity Board (GRAB) staff, where he organized and guided rock climbing, kayaking, and backpacking trips. He also was a Director of the Gettysburg College Rock Climbing Gym, where he supervised staff, organized competitions, administered belay certification courses, and created and ran experiential education summer camps for children of Gettysburg school. He was also an active member of the Sigma Chi Fraternity and helped coach the Young Medalists Cycling Team.
After graduation, Jeff went on to St. Luke's School of Nursing to receive his degree in nursing, and was offered a job right away in the ER at St. Luke's Miners Campus Hospital.
"All through nursing school, I knew that I didn't want to be a floor nurse; I solely wanted to work in the ER. I was drawn to the fast-paced excitement of the job," he said. "But after starting, I realized [the ER] wasn't what I expected, nor what I wanted. That's when I moved to Harrisburg and started in the OR."
Today, Jeff is an operating room nurse at UPMC Pinnacle Health Hospital in Harrisburg.
"I assist surgeons in procedures including kidney transplants, colectomies, cholecystectomies, and appendectomies," he said. "The OR I work at is big and just as fast-paced as the ER, if not faster, but it's a different type of nursing. There is still a patient care side of OR nursing, but a lot of OR nursing is technical and equipment as well as anatomy based."
Whatever free time that he has Jeff fills with running, skiing, rock climbing, and traveling. The first race that he ran was the Harrisburg Marathon, in which he qualified for the Boston Marathon. He also participated in the Gunpowder Keg 50K and the Dirty German 50 miler.
He would like to remind all the seniors to not stress about what their future holds.
"I like to think of life as a puzzle that needs to be solved," Jeff said. "All the pieces fit together; you just need to figure out how."
David Alpert
While 2013 graduate David Alpert sustained injury after injury in high school, he never thought that being in constant recovery would inspire his future plans. After missing six months of sports in his sophomore year due to a torn labrum, and spending two and a half months of going to school for only half days during his junior year due to a serious concussion, he realized that he no longer wanted to be the patient, but the physical therapist.
"Although I suffered injuries that prevented me from playing sports in high school, I wouldn't change this part of my life because it led me to a career that I love in physical therapy," David said. "The physical therapist that I saw in my recoveries during my many, many, many, many injuries from soccer and lacrosse allowed me to participate in all the activities that I wanted to, and I want to give back to all of the others that want to play sports."
In high school, David participated in soccer, lacrosse, National Honor Society, Key Club, and the Emerging Health Program. Like his older brother, he achieved the rank of Eagle Scout.
After graduating from high school, he went to the University of Vermont to study exercise and movement science. In college, David was the President of the Kayak Club for a year, and a leader for the Kayak Club and Outing Club for four years, during which he led trips and enjoyed the outdoors of Vermont. He also was a leader for TREK, a seven-day wilderness expedition for incoming freshmen. On top of all that, he found time to conduct research towards his degree.
"I studied the effects of cognitive interference, or multitasking, with people who have Multiple Sclerosis (MS)," he said.
David is now in graduate school to earn his doctorate in physical therapy from the University of Vermont. He wants to do inpatient or subacute rehabilitation for patients who have suffered trauma, strokes, or brain injuries.
"With inpatient or subacute care, I would get to work with patients following a traumatic, life changing, or debilitating experience," he said. "I would get them to be able to become independent and live on their own or with minimal care."
If he is not in class, David is studying at least 60 hours a week. However, he sometimes finds time to hike with his dog Annie, boof off a 30-foot waterfall in his kayak, shred it up on his snowboard, or take beautiful pictures of the outdoors of Vermont.
For seniors, Dave has these wise words: "Don't be afraid to pursue your passions, you're never going to be any younger."

About the Writer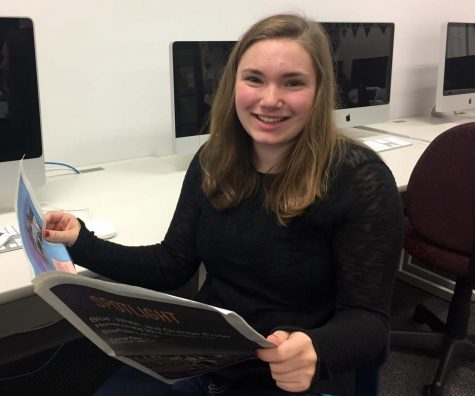 Danielle Alpert, News Editor
Senior Danielle Alpert four-year staff reporter and former two-year center spread editor, now serving as news editor for the Spotlight. In addition to...